About the Show
The Halifax International Boat Show is the premier selling venue for Atlantic Canada's recreational boating industry. It's a show that buyers trust, and the ideal place to showcase and sell current brands and launch new lines.
A TRADITION FOR THE MARITIMES' RECREATIONAL MARINE INDUSTRY.
This leading event features boats of all shapes and sizes, along with exhibits of marine equipment, marine engines, diesel, gas, outboard and inboard, marine electronics and accessories, docks and dock builders. With thousands of attendees and nearly four decades of longstanding success, this is one event your marine-related business can't afford to miss.
OUR AUDIENCE AT A GLANCE:
Our 2020 visitor survey indicated that 75% attendees own their own boat, and nearly 40% are in the market for a new one. With the influx of sales during late winter and early spring, you'll leave the competition in your wake!
EXHIBIT PACKAGE & PRICING
EXHIBIT PACKAGE & PRICING
Our all-inclusive booth package includes:
• Back & side wall drapery.
• Aisle Carpeting
• Booth Carpeting (10 x 10 booths only)
• Exhibitor Parking
• Pressure Cleaning
• Container Storage
• Daily Booth Vacuuming
• Discount Admission Passes
• Forklift Services to and from your booth up to 5,000 lbs* (provided that special lifting and moving equipment is not required)
Pricing:
10x10 Booths (100 sq. ft. minimum) $12.00/sq. ft. (carpet included)
Bulk Space (carpet not included):
400 sq. ft. – 1,199 sq. ft. $8.00/sq. ft.
1,200 sq. ft. – 2,499 sq. ft. $4.75/sq. ft.
Over 2,500 sq. ft. $3.60/sq. ft.
Table Display: $375.00 Each
MANDATORY ACCEPTABLE FLOOR COVERING REQUIRED FOR BULK BOOTHS
Book Space
To fax or email your Space Rental Contract, please click the "Download" button to get a copy of the contract then send it in to us using the information on the form. To fill out the Space Rental Contract online, please click the "Online" button to the right.
DATE, TIME & LOCATION
Thursday, February 2
10:00 am - 8:00 pm
Friday, February 3
10:00 am - 8:00 pm
Saturday, February 4
10:00 am - 7:00 pm
Sunday, February 5
10:00 am - 5:00 pm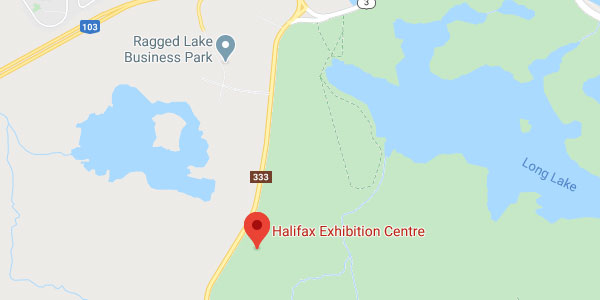 Halifax Exhibition Centre
200 Prospect Road
Halifax, NS
B3T 1P2
(902) 876-1811
2023 Exhibitor List
270 West Consulting
Allain's Sales & Service
Apple Valley Brewing Company
Arbor Memorial
Armdale Yacht Club
Atlantic Boating (Trinav Group of Companies)
Atlantic Fabrics
Atlantic Wharf Builders Inc- CanadaDocks
Atlantic Yacht Sales
Baddeck Marine
Barbara Lynns Gifts
Bath Fitter
Bauld Insurance
Bear River Plastic Welding
Bell and Virgin Corporate Stores
Candock Halifax
Canadian Coast Guard-MCT
Canadian Maritime Engineering Ltd
Canadian Power Squadron
Canadian Wildlife Federation
Canmac Watercraft
Chic Marine
Cold Water Docks
Covey Island Boatworks
Crafts Cove Marine
Dartmouth Yacht Club
Discovery Sailing RYA Training Centre
DMK Cookware
Eastlink
East River Shipyard Ltd
Egyptian Comfort- Luc Morin Enterprises
Environment Canada
Epicure- Leanne Penney
EZ Dock (Eagle Beach Contractors)
Fairway Insurance Services Inc
Full Throttle Powersports-BRP
Gallagher's Skippers Plan
Gateway Insurance Group
Go Powersports
Gold River Marina
Good Mooring Ltd.
Gordon Stirrett Wealth Management
Halifax Distilling Co
Heritage Boat Yard Cooperative
Icom Canada
Innovative Marine LLC
Interlux and Awlgrip
Iron Wind Marine
Lowrance-Navico
Mahone Islands Conservation Association
Mahone Marine Ltd
Maritime Marine Supply
Maritime Ship Modellers Guild
Marlin Marine
Massager- Luc Morin Enterprises
Michele Stevens Sailloft Ltd
MLR Creations
Murals and Paintings by Peter Matyas
NewStar Marine
North 44 Yacht Sales
Nova Automotive
Nova Scotia Boat Builders Association
Nova Scotia Heritage Schooner Rescue Society
Nova Scotia Sea School
Nova Scotia Wildlife Carvers Association
Nurple Sauce Company
Ocean Yacht Sales
Performance Welding
Polaris Marine Services
Power Boating Magazine
Pro Nova Marine Products
Quartermaster Marine
Raymarine
Rekord Marine Enterprises
Rosborough Boats
Sable Shortbread Company
Sail Able
Sailing CBI Inc
Sail Nova Scotia
Salty DNA
Saltwinds Coffee Company
Schooner Cove Marine
Seamasters Services
Seminar Presentation Stage
Shining Waters Marine
Shore Cycle & Marine
South Shore Ship Modellers Guild
Squeegee- Luc Morin Enterprises
Still Fired Distilleries
St Peter's Marina
Sunnybrook Yacht Brokers
Tasteylicious Treats Food Truck
TD Auto Finance
The Boat Shop
The Binnacle
The Cake Lady
The Dog Ate It
The Discovery Centre
The Pocket Blade
Topper Sailboats Canada / Parallel 45 Marine
Traditional Marine Outfitters
Transat Marine - Division of Western Marine Co.
Transport Canada- Office of Boating Safety
Transport Canada- Navigation Protection Program
VMG Marine
White Water Marine Ltd
Accommodations
Future Inns Halifax
$119.00 per night, +tax
Use booking code: 2301BOATSHOW
www.dpmurphyhotels.com
Coastal Inn Halifax
$124.00 per night, +tax
Phone: 1-855-603-8999
Say you are with the Halifax Boat Show

Comfort Inn Bayers Lake
$129.99 per night + tax
Phone: 902-405-4555
Say you are with the Halifax Boat Show
Cut-off Date - December 31, 2022

Prince George
$139.00 + tax
Click here to book this rate
Image Gallery