Visitor Safety Plan
A Safe Event is our #1 Priority
Master Promotions Ltd. is committed to producing trade and consumer shows that are compliant with COVID-19 protocols, not only because it is the right thing to do, but because we want you to be safe when you attend our events.  We have worked with our venues, public health departments, and different levels of provincial & municipal governments to ensure we meet and exceed safety best practices.  Some of these enhanced measures include directional traffic flow, additional staff, and security, enhanced cleaning and hand sanitizing stations, physical barriers to reinforce distancing, strict control of attendee numbers, and contact tracing.  We invite you to view our current safety plan for additional information and we look forward to seeing you at the show!
SHOW PARTNER

Boating Atlantic is the official voice of the recreational boating industry in Canada's Maritime provinces. Boating Atlantic is a not-for-profit organization governed by a volunteer Board of Directors and funded by its ownership of the Halifax International Boat Show and by member dues, the organization works with its stakeholders to grow and enhance boating in the Atlantic Region of Canada and support its members in their endeavors. Members include manufacturers, distributors, wholesalers, dealers and brokers of yachts, boats, engines and accessories as well as marina operators, recreational marine service providers and other boating-related organizations. 
Ph: 902-237-2196
info@boatingatlantic.com
www.boatingatlantic.com
EXHIBIT IN THE SHOW
This is the show that buyers trust with decades of success under our belt, and the ideal place to showcase top brands and launch new lines. Chart your course to big sales at the Halifax International Boat Show.
VISIT THE SHOW
Canada's Ocean Playground is waiting for you! The Halifax International Boat Show hosts hundreds of exhibitors with boats of all shapes and sizes, along with all the products and services you need to get out on the water.
DATE & TIME
Thursday, March 25
12:00 pm - 8:00 pm
Friday, March 26
10:00 am - 8:00 pm
Saturday, March 27
9:00 am - 8:00 pm
Sunday, March 28
10:00 am - 5:00 pm
LOCATION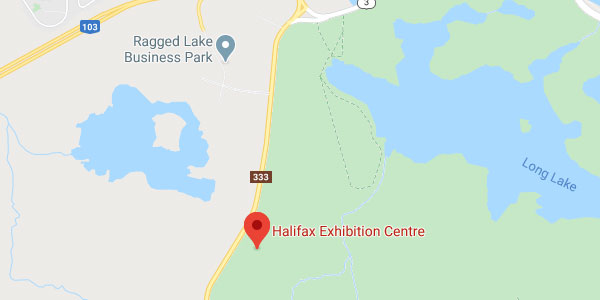 Halifax Exhibition Centre
200 Prospect Road
Halifax, NS
B3T 1P2
(902) 876-1811
Exhibitor List 2020
3871461 Canada- Flat Stacks, Kleva Sharp
Adventure Motors
Allain's Sales & Service
Armdale Yacht Club
Atlantic Car Stereo
Atlantic Fabrics
Atlantic Wharf Builders Inc
Baddeck Marine
Barbara Lynns Gifts
Baroudeurs Sans Frontiers
Bay Tub- Softtubs
Bear River Plastic Welding
Bedford Basin Yacht Club
Bell Aliant
Best Caribbean Yacht Charters Ltd
Boating Atlantic
BOATsmart!
Bridgewater Honda Powerhouse
CanadaDocks
Canadian Coast Guard-MCT
Canadian Coast Guard Auxiliary
Canadian Hydrographic Service
Canadian Maritime Engineering Ltd
Canadian Power & Sail Squadrons-Alderney & Halifax Squadron
Candock Modular Floating Docks
Canmac Watercraft
Captain G's Rope Anchors
Class Afloat
Cold Water Docks
Covey Island Boatworks
C-Tow Marine Assistance Ltd.
Dartmouth Yacht Club
Develop NS
Discovery Sailing RYA Training Centre
Doyle Sailmakers
Eagle Beach Contractors- EZ Dock Halifax
East Coast Chocolate Company
Eastcoast Power Systems
East River Shipyard Ltd
Environment Canada
Fairway Insurance Services Inc
FLIR Maritime- Raymarine
Full Throttle Powersports-BRP
Gateway Insurance Group
Gold River Marina
Good Mooring Ltd.
Gordon Stirrett Wealth Management
Halifax Search & Rescue
Heritage Boat Yard Cooperative
Honda Atlantic Zone Dealers (Honda Canada)
Icom Canada
Interlux and Awlgrip
Iron Wind Marine
Jastram Technologies
L.J. Patterson Sales
Leonard C. Comeau
Lowrance-Navico
Mahone Marine Ltd
Maritime Hydro Bikes
Maritime Ship Modellers Guild
Mermaid Marine Products
Michele Stevens Sailloft Ltd
Modern Marine Group Inc/PMS Docking
Mother Earths Natural Remedies
Navigator Publishing
NewStar Marine
Nodding Sales & Service
North Sails Yacht Shop
Nova Scotia Wildlife Carvers Association
Oak Island Resort and Conference Centre
Ocean Yacht Sales
Paynes Marine
Pleasure Craft Operator Card Testing- CPS
Polaris Marine Services
Pro Cycle
Q-104
Quartermaster Marine
Raina The Mermaid Presented by Bay Tubs (Saturday & Sunday)
Rekord Marine Enterprises
Royal Nova Scotia Yacht Squadron
Sail Able
Sailing CBI Inc
Sail Mahone Bay
Sail Nova Scotia
Salt-X Canada
Seamasters Services
Seaview Marine Services
Schooner Cove Marine
Shining Waters Marine
Shore Cycle & Marine
Skiability NS - Water Ski Wakeboard NS
Skippers Plan Insurance- Arthur J. Gallagher Canada Limited
South Shore Ship Modellers Guild
Still Fired Distilleries
St Peter's Marina/Cape BretonSailing School
Stright-Mackay Limited
Sunnybrook Yacht Brokers
TD Auto Finance
The Boat Shop
The Binnacle
The Discovery Centre (Saturday & Sunday)
The Dog Ate It
Traditional Marine
Transat Marine - Division of Western Marine Co.
Transport Canada
Unicorn Restoration Ltd.
VMG Marine
WCL Bauld Insurance Brokers
White Water Marine Ltd