VISIT OUR NEW DIGITAL MARKETPLACE
Since we couldn't welcome you to the show live and in-person we'd like to welcome you to our New Maritime Boat & Outdoor Digital Marketplace!  It's a unique database of our dealers and exhibitors that you can browse from the comfort and safety of your home. Search by company name or filter by category (unit type) or alphabetically. You'll find company information, photos, videos, product highlights, and special offers or promotions. Connect easily by clicking the email, website, or social media buttons. Start now by clicking the button to your right. 
Halifax International Boat Show Postponed to 2022
 For Immediate Release
Issued: February 26, 2021
Halifax, NS – This afternoon, Nova Scotia Premier Iain Rankin and Dr. Robert Strang, Chief Medical Officer of Health, announced tighter COVID-19 restrictions in the province. As of 8:00 am tomorrow, special events, including trade shows, are not permitted until at least the end of March, and residents are being asked to avoid non-essential travel in and out of HRM during this period.
As a result, Master Promotions Ltd., along with event partner Boating Atlantic, are announcing the postponement of the 2021 Halifax International Boat Show, which was scheduled for March 25-28, 2021. The next edition of the Halifax International Boat Show will take place in February 2022.
"We obviously spent a lot of time and effort to prepare for the 2021 show so we are disappointed we can't proceed," said Scott Sprague, Show Manager. "Nova Scotia has been doing very well when it comes to COVID-19 cases, and when the announcement came only weeks ago that restrictions would be eased to allow events, we were excited to be moving forward. But we also understand that the situation can suddenly shift, and we have to follow the recommendations laid out by government officials to keep everyone safe."
Master Promotions Ltd. would like to thank the Halifax International Boat Show community for unwavering support from exhibitors, visitors, sponsors, and partners. "We continue to believe in the strength of face-to-face business and networking opportunities that shows provide," added Sprague. "We look forward to hosting an in-person event again when it is safe to do so."
For the latest information, visit HalifaxBoatShow.com or follow the show on Facebook and Twitter.
Media Inquiries:
Scott Sprague, Show Manager
Master Promotions Ltd.
ssprague@mpltd.ca
902-468-4999 | 888-454-7469
Moira Pellerine, Marketing & Operations Manager
Master Promotions Ltd.
mpellerine@mpltd.ca
902-468-4999 | 888-454-7469
SHOW PARTNER

Boating Atlantic is the official voice of the recreational boating industry in Canada's Maritime provinces. Boating Atlantic is a not-for-profit organization governed by a volunteer Board of Directors and funded by its ownership of the Halifax International Boat Show and by member dues, the organization works with its stakeholders to grow and enhance boating in the Atlantic Region of Canada and support its members in their endeavors. Members include manufacturers, distributors, wholesalers, dealers and brokers of yachts, boats, engines and accessories as well as marina operators, recreational marine service providers and other boating-related organizations. 
Ph: 902-237-2196
info@boatingatlantic.com
www.boatingatlantic.com
LOCATION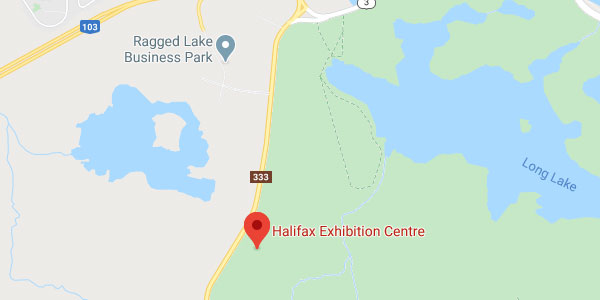 Halifax Exhibition Centre
200 Prospect Road
Halifax, NS
B3T 1P2
(902) 876-1811