About The Show
The Halifax International Boat Show offers a comprehensive range of boats, catering to both entry-level enthusiasts and those seeking luxurious options, along with an extensive selection of services and accessories. Engage with industry experts, explore the latest models firsthand, and prepare for thrilling adventures on the water.
In addition to hosting your beloved local dealers, The Halifax International Boat Show presents an array of family-friendly activities, informative educational seminars, and much more!
SHOW PARTNER
Boating Atlantic is the official voice of the recreational boating industry in Canada's Maritime provinces. Boating Atlantic is a not-for-profit organization governed by a volunteer Board of Directors and funded by its ownership of the Halifax International Boat Show and by member dues, the organization works with its stakeholders to grow and enhance boating in the Atlantic Region of Canada and support its members in their endeavors. Members include manufacturers, distributors, wholesalers, dealers and brokers of yachts, boats, engines and accessories as well as marina operators, recreational marine service providers and other boating-related organizations.
2023 Exhibitor List
270 West Consulting
Allain's Sales & Service
Arbor Memorial
Armdale Yacht Club
Atlantic Boating (Trinav Group of Companies)
Atlantic Fabrics
Atlantic Wharf Builders Inc
Atlantic Yacht Sales
Baddeck Marine
Barbara Lynns Gifts
Bath Fitter
Bauld Insurance
Bear River Plastic Welding
Bell and Virgin Corporate Stores
Boating Atlantic
Canada Border Services Agency
Candock Halifax
CanDock
Canadian Coast Guard-MCT
Canadian Maritime Engineering Ltd
Canadian Wildlife Federation
Canmac Watercraft
Chic Marine
Cold Water Docks
Covey Island Boatworks
Crafts Cove Marine
Discovery Sailing RYA Training Centre
Eastlink
East River Shipyard Ltd
Environment Canada
EZ Dock (Eagle Beach Contractors)
Fairway Insurance Services Inc
Full Throttle Powersports-BRP
Gallagher's Skippers Plan
Gateway Insurance Group
Go Powersports
Gold River Marina
Good Mooring Ltd.
Gordon Stirrett Wealth Management
Halifax Distilling Co
Halifax Power and Sail Squadron
Heritage Boat Yard Cooperative
Icom Canada
Innovative Marine LLC
Interlux and Awlgrip
Iron Wind Marine
Lowrance-Navico
Mahone Islands Conservation Association
Mahone Marine Ltd
Maritime Marine Supply
Maritime Ship Modellers Guild
Michele Stevens Sailloft Ltd
NewStar Marine
Nova Automotive
Nova Scotia Boat Builders Association
Nova Scotia Wildlife Carvers Association
Ocean Yacht Sales
Performance Welding
Polaris Marine Services
ProNav
Q-104
Quartermaster Marine
Raymarine
Rekord Marine Enterprises
Rosborough Boats
Sail Able
Sailing CBI Inc
Sail Nova Scotia
Seamasters Services
Schooner Cove Marine
Shining Waters Marine
Shore Cycle & Marine
South Shore Ship Modellers Guild
Still Fired Distilleries
St Peter's Marina
Sunnybrook Yacht Brokers
TD Auto Finance
The Boat Shop
The Binnacle
The Cake Lady
The Dog Ate It
The Discovery Centre
The Pocket Blade
Topper Sailboats Canada / Parallel 45 Marine
Traditional Marine
Transat Marine - Division of Western Marine Co.
Transport Canada- Office of Boating Safety
Transport Canada- Navigation Protection Program
VMG Marine
White Water Marine Ltd
DATE, TIME & LOCATION
Thursday, February 1
10:00 pm - 8:00 pm
Friday, February 2
10:00 am - 8:00 pm
Saturday, February 3
10:00 am - 7:00 pm
Sunday, February 4
10:00 am - 5:00 pm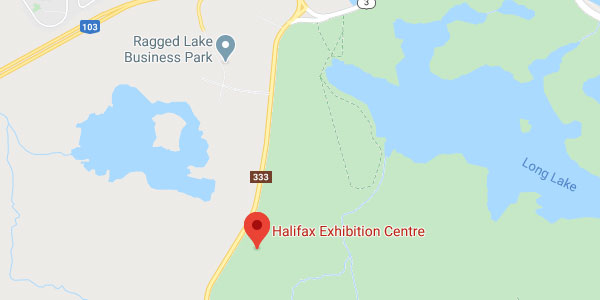 Halifax Exhibition Centre
200 Prospect Road
Halifax, NS
B3T 1P2
(902) 876-1811
Admisson
Adults - $12
Student & Seniors - $10
Family Pass - $30
*Tickets are valid for the entire weekend
Accommodations
Best Western Chocolate Lake Halifax
250 St Margarets Bay Road, Halifax, NS B3N 1J4
$139 per night
Click here to reserve your room
Cut off date December 30th, 2023